Highlight: Product + Critical Thinking - Speculative
Categories: UX Research, UX, Design Thinking, Touched on CX

Roles: User Researcher, Product Designer
Participants: 5 qualitative interviews

Tools: Figma for the design process; Flowmapp for the CJM; Google Sheet for feature priority; Web Inspector/Code Editor for visual UX/UI mockups; Maze for usability test

Duration: 1.5 weeks, 60 hours in April 2020
*** Note: Speculative added feature project, no affiliation with the brand ***
Airbnb Experience Reviews
Prologue: The customer is always right in the service industry. It depends...
Airbnb offers vacation rentals, homes, experiences, and places. They offer unforgettable experiences to guests.
Problem:
Use your common sense for booking on Airbnb.
So how can hosts and guests look trustworthy to one another while Airbnb mediates?
Scope and Constraints:
The time limit to produce an added feature to the Airbnb website was 1.5 weeks or approximately 60 hours. Completing user recruitment and remote user testing within the limited timeframe was a challenge. The scope revolved around solving the problem. To produce the new feature, I applied UX design, Design Thinking, CX design, and various other methods throughout the project stages.
Challenges Faced:
I encountered a few challenges while completing this project. One challenge was establishing a focal point for customer experience design since the results of the research study were quite broad. All the research participants had very different customer experience in North America, Europe, and Asia. Their cultural norm wasn't a big factor in how well their experience was. Also, fourth-fifths of participants had to recall their experiences from more than one year ago and they had trouble recalling fine details.
There was also a learning curve while applying the newly learned skills of Design Thinking and Customer Experience Design. I had assumed personas, customer journey maps, competitive analysis, and wireframe sketches would be similar to past projects. Also, I thought following Airbnb's existing design system would be easy but it was not easy. I was uncertain to follow the design system because as I was drafting the UI to add the feature, I found the most updated colour palette from the web inspector
Research Definition
I did one-on-one phone interviews and teleconferencing calls for user research. I collected data from 5 participants to understand their Airbnb experience. None of them were aware of Airbnb's safety and trust statement and one had a negative experience. Travelers were generally more concerned about the lodging experience. As long as there was enough door security and they were in a safe neighbourhood, they were satisfied, until something was to happen. At the end of the interviews, my research participants were left wondering how safety and trust work on Airbnb.
Research findings breakdown:
Three in five people interviewed would prefer other lodging websites (i.e., Expedia) over Airbnb due to cleanliness and hospitality
Three in five people are not happy about Airbnb's new online experience section to make money and find it a turn off
One in five people are thinking of using Airbnb's new online experience
Three in five people think one month after a stay would be ideal to leave reviews as they are travelling to multiple countries in their trip
The remaining two people weren't affected by the two-week duration to leave the reviews and only of the one left a review
Two new features Airbnb offers as of 2020 are:
Online experiences, where guest can join live sessions led by superhosts without leaving their house
Front-line stays, where guests can find or hosts can provide stays for COVID-19 responders
In general, participants preferred the Airbnb brand to offer budget-friendly rental spaces for travel experiences and the aesthetic of the site drew them into using the product. Fourth-fifths participants disclosed they won't use online experiences. None of the first batches of participants has disclosed what they think about the front-line stays because they have not gone to use the Airbnb site recently.

My formed hypothesis based on hearing the 5 research participant's stories:
How fast the communication between guests and hosts is the perceived sense of "safety" and choosing cleanliness is their "blanket of comfort" in selecting an Airbnb stay.
I established the following goals for the newly added feature for three parties: Guests, hosts, and Airbnb stakeholders. These goals will improve the usability for (g1), (g2), and (g3).
(g1) Primary goal: Develop safety and trust between the guest and the Airbnb host before booking occurs

Which party benefits? My answer: All three parties
Why should this be done? My answer: Build a user-centred transparent company
How can this be done? My answer: Through the planning section of the case study

(g2) Secondary goal: Explore how a host or guest can genuinely look more safe and trustworthy to each other
(g3) Tertiary goal: Look for ways to raise awareness of safety and trust in Airbnb's website content
Meet the Traveller
for All-Women Trip:
Hover on the image to read
a bit better on desktop
(Min. 1425px width)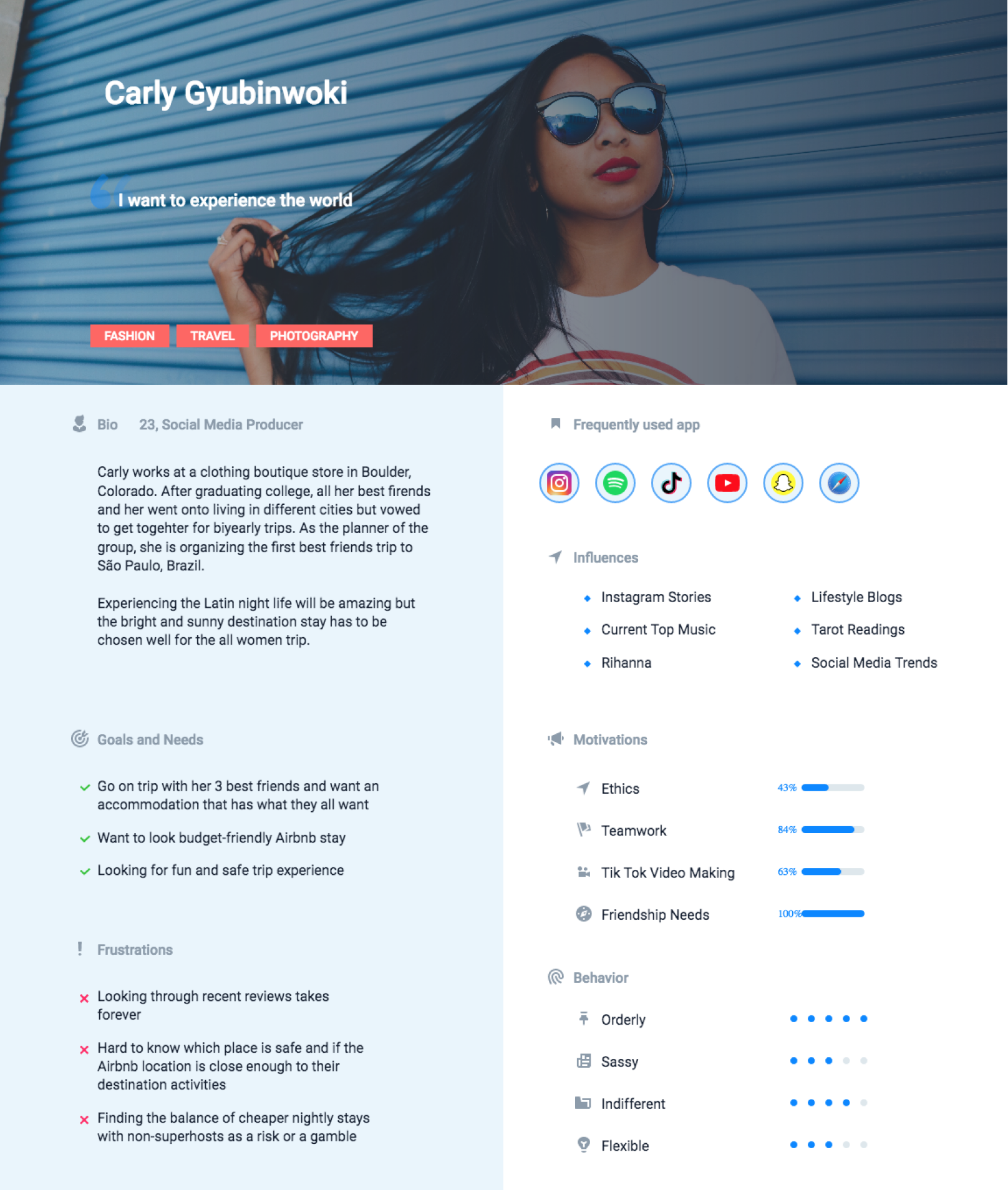 Carly's Customer Journey
from Looking at Airbnb
Places to Stay
to Going Back Home:
Hover on the image to read
a bit better on desktop
(Min. 1425px width)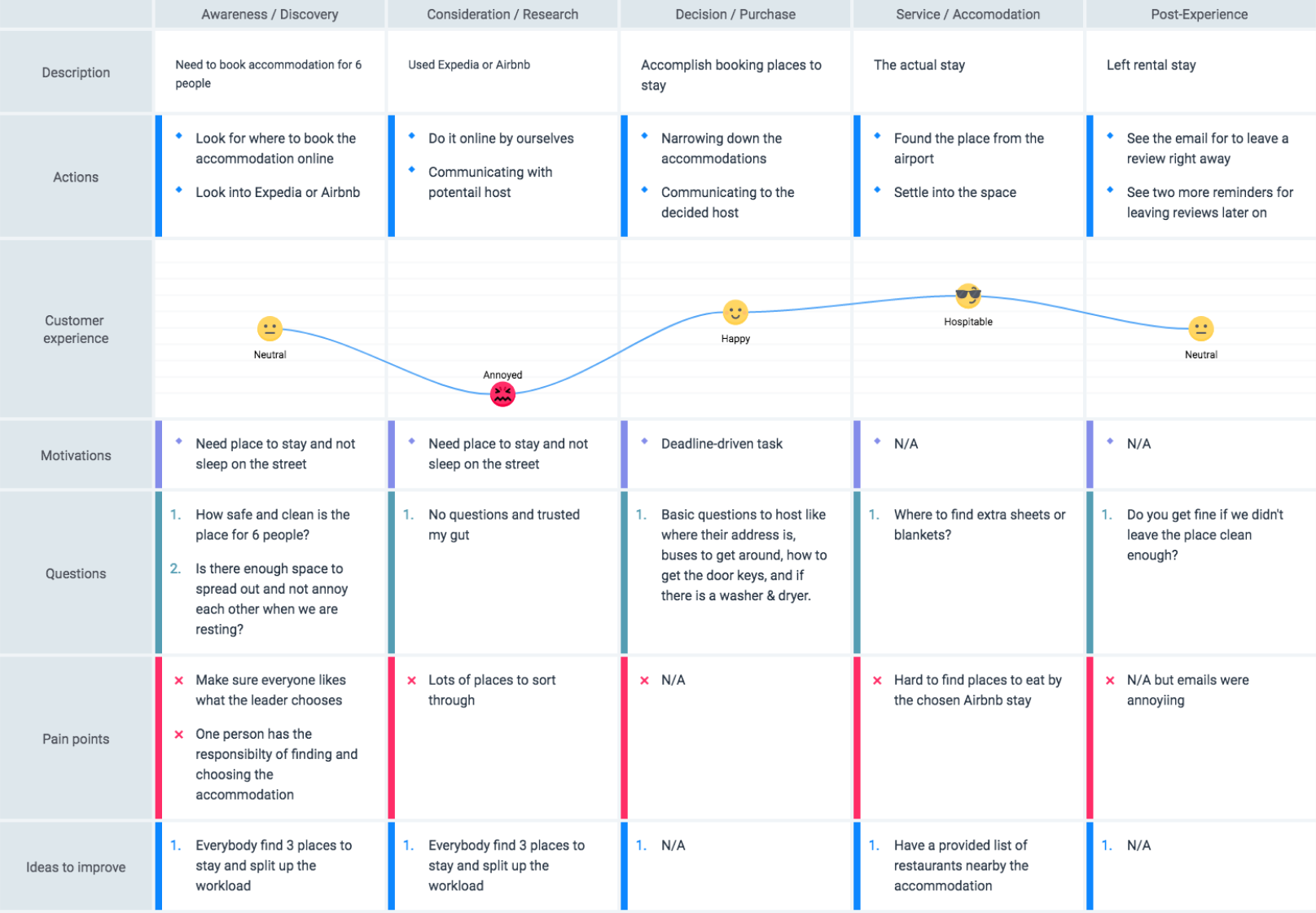 Three Key Players
in the Business Model: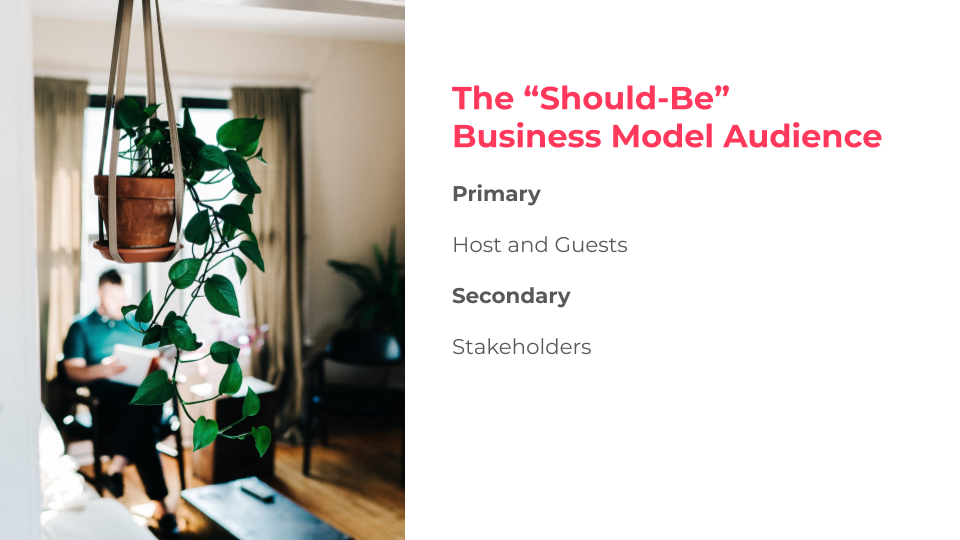 Solution Planning
Features Ideated with
Priority to Solve
the Design Problem:
Hover on the image to read
a bit better on desktop
(Min. 1425px width)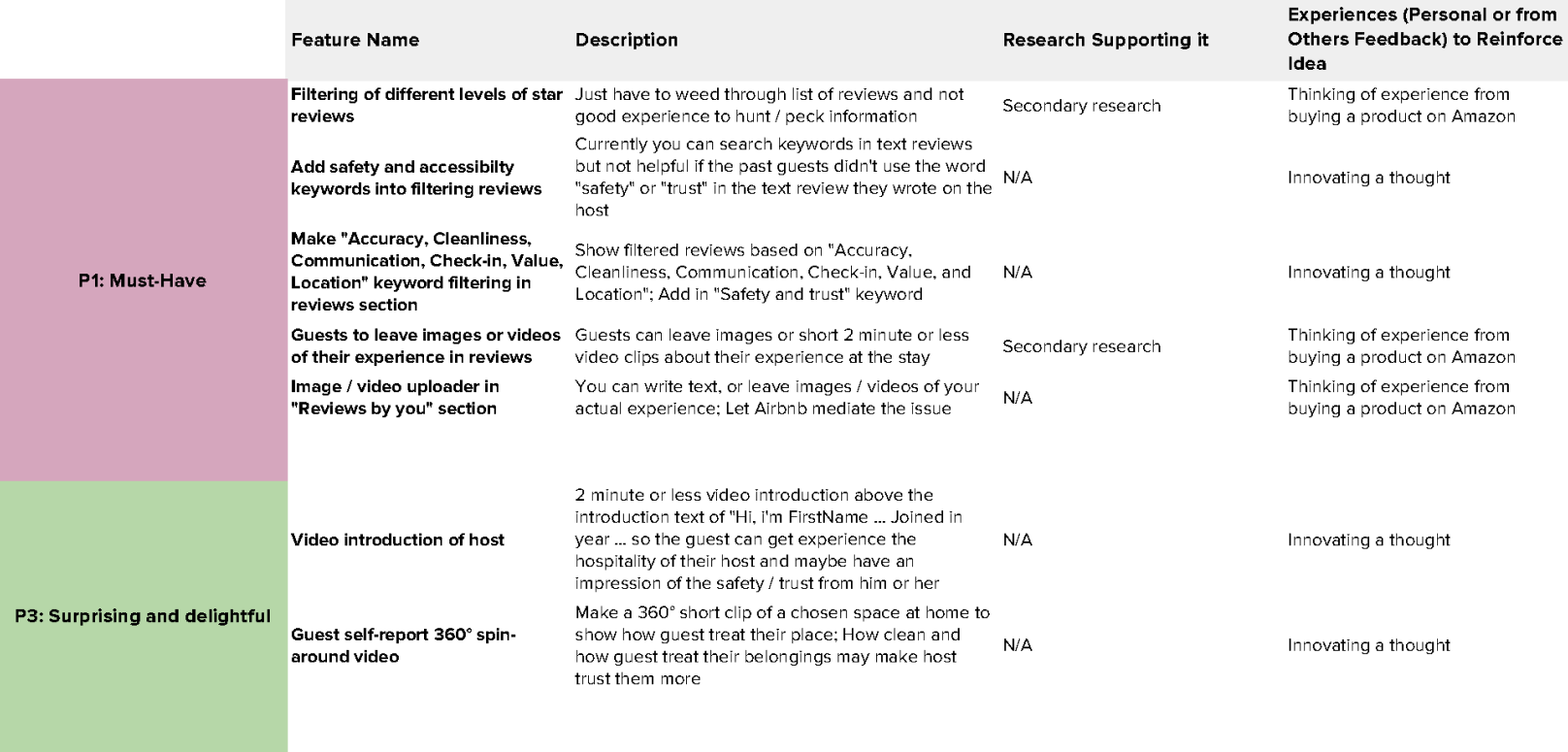 My innovative thought was that guests can add video reviews from their Airbnb stays to give other Airbnb users honest feedback. Word-of-mouth marketing is very valuable and if a company allows that to be on their platform it generates more trust from users to your brand. I am aware that Airbnb guests or hosts have the option to write reviews about each other and that reviews are posted after a specific time. Some reviews may not appear on hosts' profiles due to how untrustworthy the guest is.
Also, I extended the video idea to other parts of Airbnb content such as being able to filter a rental space's hero media gallery. My thoughts were that hosts can post virtual tours of their property. Self-discovery and secondary Google research gave me a few surprises.
My first surprise was that Airbnb hosts have been requesting a video upload feature be added since as far back as 2016. No video upload exists at this time. The possibilities of this backlog may be other features were more important or simply too many videos will slow down the website and mobile app platform.
From my one-on-one user interviews, for one to decide on which Airbnb host to stay at, they have at approximately 10 rental listings open to looking at reviews. They looked for the most recent reviews, and for cleanliness. I also did a rough check-in with my user participants and asked how long it took them to look through reviews. The users with a laissez-faire attitude took about 1 to 2 hours. The users wanting a good experience took a few hours more and if you multiply that by 10, then you have a very grumpy traveller before they even get there.
My second surprise, the Airbnb site, and the app is missing usability for reading through reviews. Their search function for looking up keywords in text reviews was not consistent across the responsive website and mobile app. I ran a usability check from PowerMapper and it resulted in a benchmark of 71%, which is undesirable in business.
User Flow Prep for User Testing: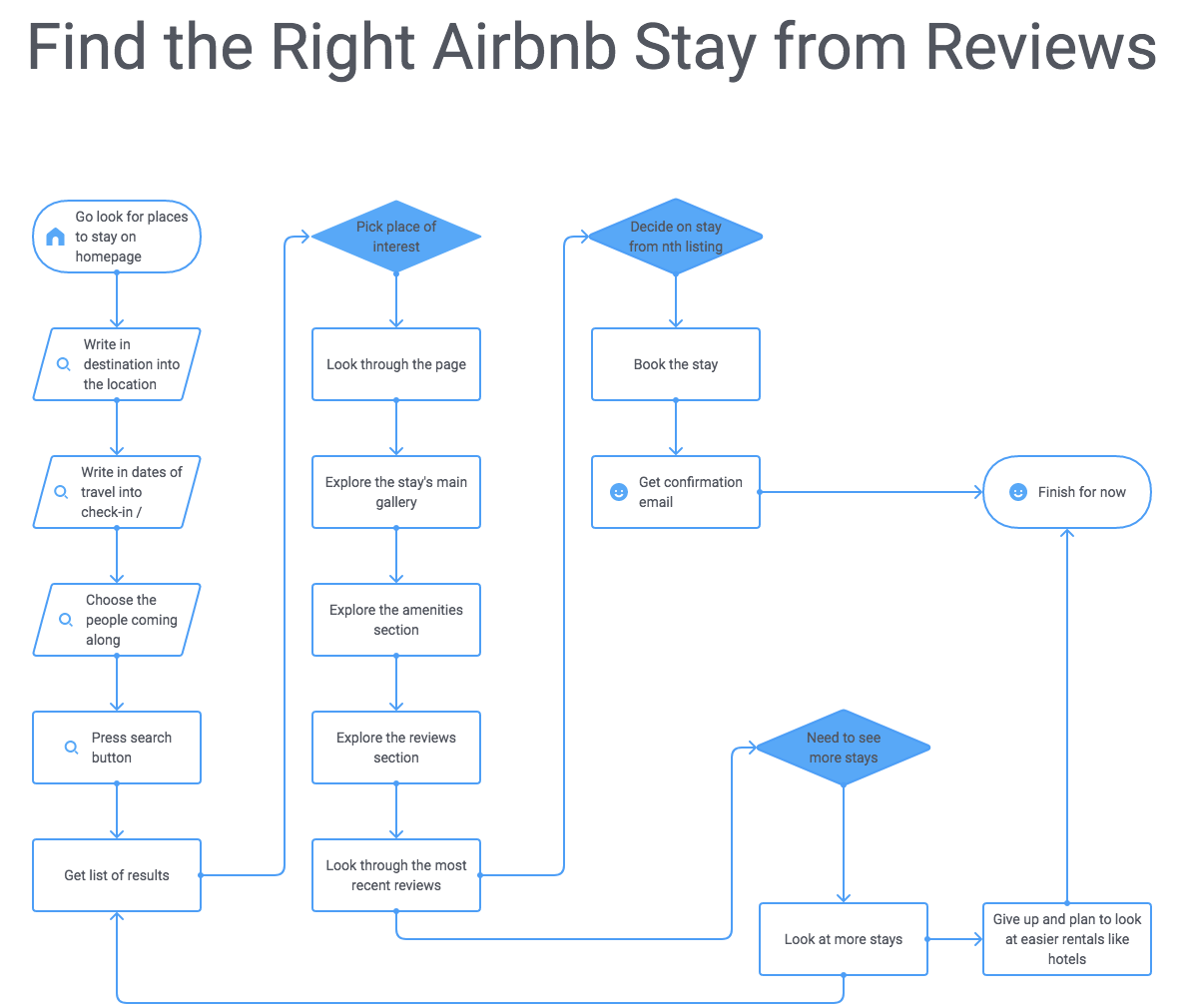 Low Fidelity Desktop Wireframes with Interactions for Ideation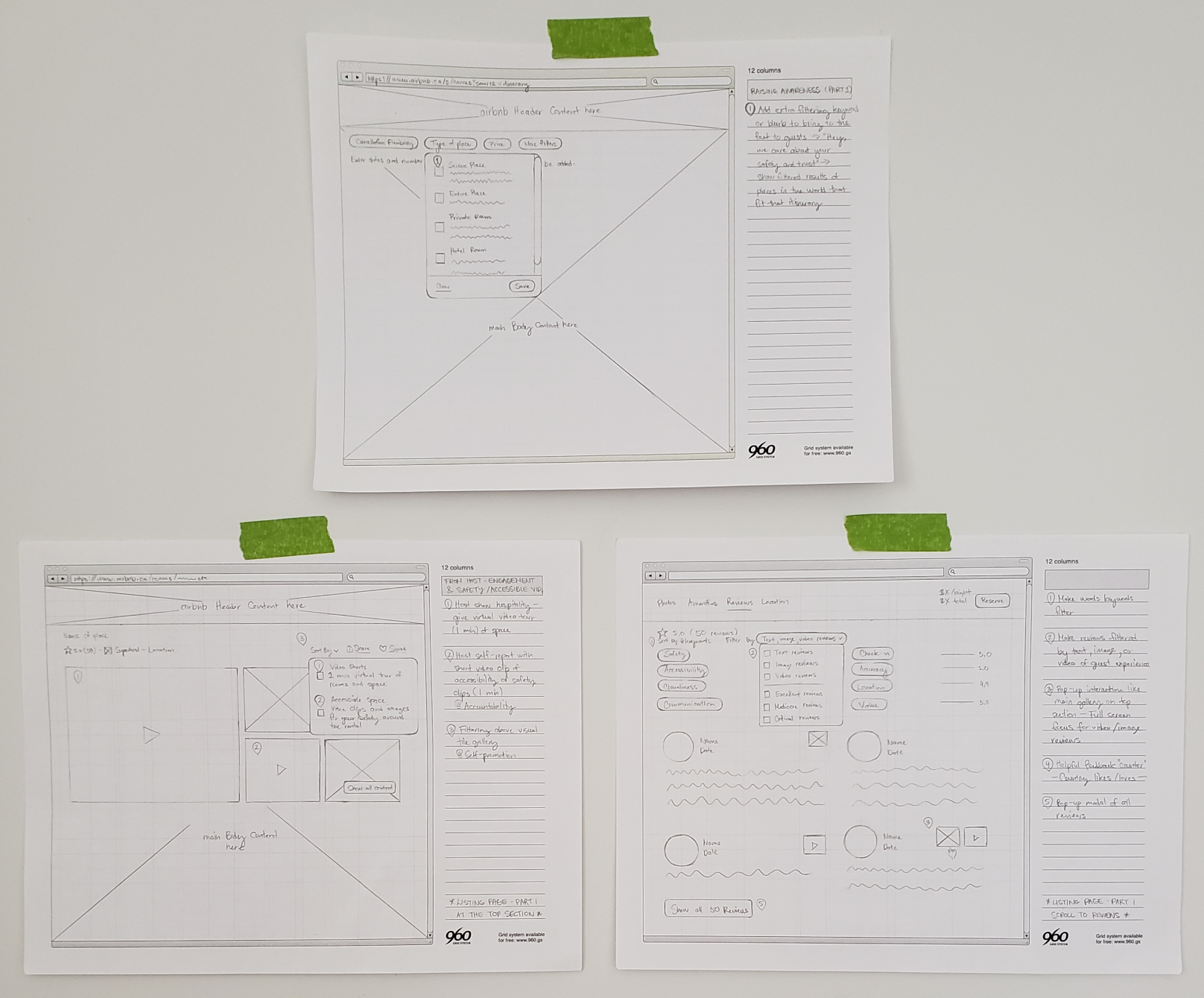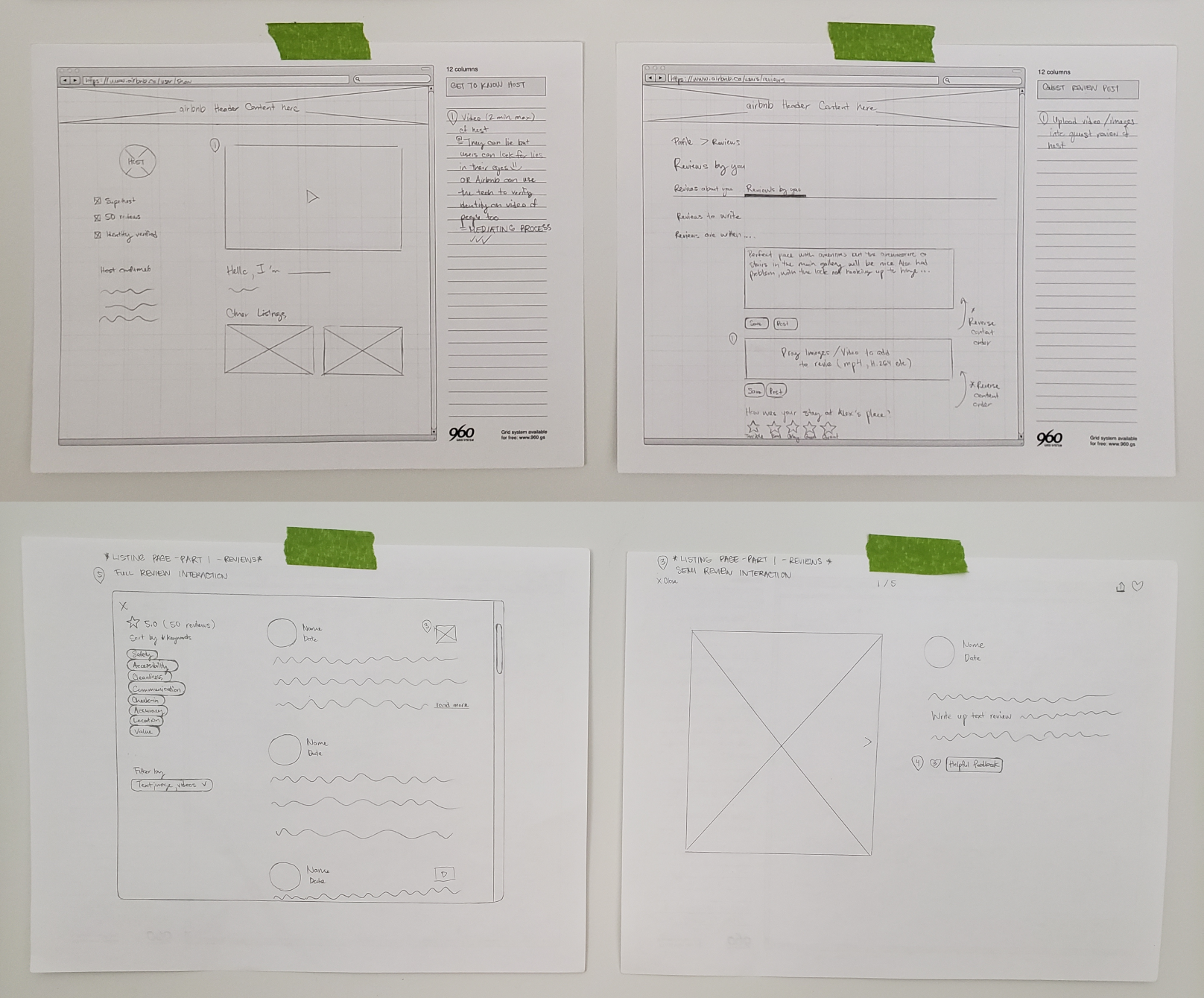 Solution Execution
I focused on adding the video feature to the desktop website because research participants from the one-on-one interviews preferred to use the website to view Airbnb stays more than the app. Many of the participants used the app to chat or check-in with the host.
I gathered many screenshots after I played with the HTML and CSS DOM to give a realistic sense of how the UI, and interactions can look. The other reason I did this was that Airbnb used Circular, an expensive font, and I didn't want to invest in the font. I progressed production to "Photoshop" the visuals in Figma and set up my user testing environment in Maze.
I conducted 15-minute user testing sessions of the prototype. Users searched and filtered through reviews and I gathered feedback on how useful the new feature was to participants. Following the initial testing, I did a 5-minute user testing observation to see how they normally search through reviews in Airbnb stays. From those 2 analyses, we did one-on-one feedback sessions to see what work and didn't work for them.
(f1) Mobile Airbnb App Reviews
(f2) Desktop Airbnb Reviews
(f3) Desktop UI Manipulations Showcasing Video Hospitality, Trustworthiness, and Better Usability with Filtering
Sidebar: The first slide in the carousel refers to the #1 note, and points correspond as you click to the next slides...
Outcomes and Lessons
I learned that innovating design thinking is not hard, but all the ideas are out there already. It takes time if you don't have a solution to the problem. I found it was challenging to test users with the feature. My polled research participants think the video review was great and liked the idea. I question if they will use it on their own time because some humans say and do opposite things. When I was observing how they search reviews in user testing, their recall of how to use the Airbnb interface was challenged. They don't use the site often, and Airbnb is constantly making changes to its website and app..
From this project, I learned more about the Peak-end rule. The annoying part of looking for Airbnb stays was generally affected by usability in searching. The safety factor was invisible to potential guests and to lessen their frustration, I made adding the image and video uploads available to them when they write reviews. The images and videos from past guests will create comfort for new guests. I also observed the advertised cost per night of a rental was lowered when you clicked into the Airbnb stay. Self-reflection: Is this an ethical sales call or beneficial savings for users?
If time permitted, I would do the following tasks:
Gather more research on customer experiences to understand wants, needs, and desires
Visualize the UI for the image/video uploader in the Airbnb app and maybe look for where to put this uploader function. If I put this image/video uploader under the Profile section, it will take guests 3 clicks from the bottom navigation to just share their image/video experience review and the ease of use isn't great
Recruit a pool of participants that have had negative experiences with Airbnb to test the new feature and do a feedback session or work with them in a live brainstorm
Pick the brain of marketing or customer experience people, and refine the added video feature
← BC Blind Sports Accessibility - Long Writeup hikeIt - Long Writeup →